Last week's report by WWF International on the illegal trade of rhinos, tigers and elephants and the countries who most need to step up to combat the problem really brought into focus how interconnected the world is – and how much we're going to need to work together to save our species.
Africa's elephants and rhinos are now being poached at an unprecedented rate for what is literally just tooth and nail (ivory is dentine, rhino horn is glorified finger nails).  Almost two rhinos are poached a day in South Africa according to one statistic I heard recently, with over 400 poached there last year.  There are less than 5000 black rhinos left, so it doesn't take long to figure out how long it will take to reach extinction at that rate.  The success story of the African white rhino (brought back from the brink to now numbering around 18,000) may not be a success for much longer either at this rate.  The reason for the poaching is the demand for rhino horn in Asia, according to a report just out from TRAFFIC, particularly in Vietnam, where compliance and enforcement of CITES regulations is poor.  The penalties for rhino horn traders are just not severe enough to deter the traders, and there have been no recorded seizures of rhino horn in Vietnam since 2008.
Dr Jo Shaw from TRAFFIC, the world's wildlife trade monitoring network, puts it like this, "With the surging demand from Asia, people willing to pay high prices to get their hands on rhino horn, and little fear of capture by those smuggling horn, it was perhaps inevitable that this 'commodity' would catch the attention of the hardened criminal fraternity, creating a 'perfect storm' for rhino poaching and horn trade."
According to WWF's report, when it comes to elephants, the countries who really need to step up to curb illegal trade in ivory and stop the poaching are Thailand and China, which are the biggest consumer countries of ivory.  It's unthinkable, but tourists are still buying ivory in Thai markets all over the country.  Whatever you do, if you're on holiday in Thailand, don't keep the demand for ivory going buy buying jewellery or carvings that come from elephants.  Chances are what you're buying is illegal, poached African elephant ivory from somewhere like central Africa where populations are experiencing localised extinctions.  Just recently in Cameroon's  Bouba N'Djida National Park, more than 200 elephants were slaughtered for their ivory by heavily armed poachers, representing a huge chunk of the park's remaining elephants (watch WWF video on this here).  In Thailand, the law doesn't truly protect wild elephants because of a loophole in the legislation that allows ivory from domestic ivory to be sold on the streets.  In reality, it's impossible to tell the difference between ivory from wild compared with domestic elephants, so much on the street is not from domestic elephants at all, but ivory from wild, poached elephants.
It all sounds a bit doom and gloom, doesn't it?  Especially when you factor in that there are only 5 species of rhinos left in the world and they are all highly threatened (IUCN red list).  Two of the remaining species of rhinos that occur in south-east Asia, the Javan and Sumatran rhinos, only have a couple of hundred left, trying to survive in fragmented habitats under immense pressure in Indonesia.  A couple of years ago the last Javan rhino in Vietnam was poached for its horn, but it seemed like most of the world barely noticed.  Although, having said that, apparently the Indonesian President has noticed, declaring this year the Year of the Rhino and pledging to set up a task force to conserve their remaining rhinos (read more here).
In some parts of the world it's not just habitat loss and poaching for their horn that threatens rhinos – it's corrupt people.  For the last couple of weeks I've been watching the Save Valley Conservancy in Zimbabwe very closely with increasing concern.  The funds raised from the two Imagine African dinners earlier this year through Animal Works went to Save Valley Conservancy to help stop the poaching of what is the second largest population of rhinos in Zimbabwe.  But as if the criminal gangs of poachers weren't enough to deal with, now the conservancy faces another threat from a small group of greedy individuals who do not have the interests of conserving wildlife at heart (it's in the media headlines this week – read more here).  The conservancy have informed me that they have now received reassurances that the problem is being dealt with by central government, so while the threat has not completely gone away, steps are being taken in the right direction.  Let's hope that continues.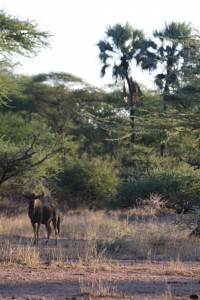 In the last few years, following many years of political instability and poaching, things have been steadily improving in Save Valley Conservancy, with several species showing signs of increases in their populations again.   Private conservancies like Save Valley are 'the last stand' for much of Zimbabwe's wildlife where dedicated individuals have stuck together and worked tirelessly to conserve wild lands and endangered species.   Save Valley itself has the second highest population of black rhinos in the country and they're doing everything they can to conserve them.  The funds raised by Australians from recent the dinners means a huge amount to them, not just in dollar terms but also in the knowledge that even on the side of the world people care deeply about Zimbabwe, her people and wildlife.
You can support anti-poaching in Zimbabwe's conservancies by donating to the SAVE Foundation (a Perth based organisation, so donations are tax deductible).  Just click here or go to one of their upcoming Australian events (there are two coming up in September) to support this cause.  Contact the SAVE Foundation for more information.  TRAFFIC and WWF are two global organisations that are working to stop the illegal wildlife trade worldwide.  Click here to learn about WWF's global wildlife trade campaign or donate to TRAFFIC (a small organisation doing great work on far too limited resources).