There's a nip in the air in Sydney.  It's just arrived, serving as a reminder to me that over on the other side of the world (the side I'm most interested in) the safari season is just about to get interesting.  The dry season is when it's all happening in southern Africa, when the rain dries up in the bush and the grass dies off, turning custard coloured and perfect for hiding lions, as well as enabling brilliant game viewing.  The wet season is a nice time to be there too with all the baby animals and all that green grass (and of course, less tourists), but the dry season is when you get some of the best game sightings, like the big concentrations of animals at Etosha's water holes.
In case you missed it through the Animal Works website, here's the lowdown on last week's fantastic Imagine Africa dinner with several awesome African authors, as well as the lucky winner of the safari competition.  Click here for all the pictures!  Thanks to everyone who came along to both nights this year and made it such a sensational evening for all.  In the realm of $20,000 has been raised to support the anti-poaching effort in the Save Valley Conservancy, Zimbabwe.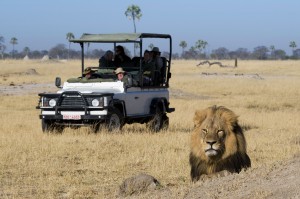 We're still taking bookings for just a little longer for Animal Works' second Zimbabwean expedition on 27th September, including both the Save Valley Conservancy & Hwange National Park.  I'm really looking forward to coming along.  Late September is a fantastic time to be in Zimbabwe – late dry season – so expect some of the best game sightings you're ever likely to get.  Check out what's happening in conservation on the ground and experience the ultimate game viewing safari at the same time – this is a unique adventure and not to be missed and you're also contributing to an important cause through Animal Works.  Learn more here.