It had been a few years since I'd been back to Namibia, the desert land where I studied black-faced impalas for my PhD, later planning a reintroduction for the subspecies to their historic range in the far north west.  Namibia is also where I went on to start my work on elephants, working with the San Bushmen in Nyae Nyae Conservancy to help alleviate human-elephant conflict over water.  Namibia will always have a special place in my heart, and it gave me a great grounding in the how-to of practical conservation.  It's also a great place to go on safari, being easy and safe by African standards, and having the most astounding landscapes, fascinating cultures and unique wildlife, unlike anywhere else.
I believe Namibia is one of the best countries in the world in terms of innovative, practical conservation, largely because of their highly successful community-based conservation efforts, centred around the communal conservancies.  There's no better place to visit than camps like Doro !Nawas Camp, Damaraland Camp, Serra Cafema Camp and Desert Rhino Camp, if you want to see how engaged local communities get when they have genuine ownership over their natural resources.  It's not only the fact that you have locals running these camps, as managers, waiters and guides – it's the warm feeling you get from the staff, who are not just employees but owners and landlords.
I had a fantastic group of people on safari with me this time, mostly expats from Singapore of Dutch, Indian and American backgrounds, as well as a representative Aussie and a Kenyan!  They were all up for an adventure, and that's certainly what Namibia provides.  Flying over the vast landscapes is half the experience, seeing the dune shapes from the air and if you're lucky, seeing flamingoes and seals along the coast!
We kicked off the safari at Kulala Desert Lodge, the closest camp to the famous Sossusvlei area in the Namib Naukluft Park.  I was delighted to find that my research assistant, Munekamba (now known as Ati-Sari), who helped me on my black-faced impala studies in north-west Namibia, is now the manager at Kulala Desert Lodge.  If you've read my second book "Elephant Dance" you'll remember the story of the two bull elephants standing over my tent while my assistant looked on from his roof top tent – well, that was Munekamba!  After we worked together I introduced him to the managers at one of the Wilderness Safaris camps, and he's done so well that he's now managing one of their busiest camps.  I'm stoked to say Munekamba saw his first elephant with me back in 2006 – and it was standing over my tent at the time!
Kulala Desert Lodge is a great place to explore the Namib from.  If you want, you can actually sleep on the roofs of the gorgeous chalets, star gazing from your bed as you drift off to sleep, however it wasn't the best night for it for one of my group, Robert, as during the night a sand storm blew in and he had to make a quick departure inside!  It was a wild morning in the dunes, as the more adventurous among us climbed the dunes, being literally blown right off their feet as cyclonic winds whipped across the desiccated landscape.
At Dead Vlei however, it was perfectly calm, somehow protected from the winds by its sunken position.  We discovered several fascinating species in the Namib, including the white lady spider and a horned adder at Sesreim Canyon, plus a wonderful spotted eagle owl in a tree near where we stopped for coffee, all well spotted by our excellent Wilderness Safaris guides.  But to me it's always the oryx that steal the show in the Namib, these magnificent antelopes with their black and white markings and sharp, straight horns that make them stand out so strikingly against the pastel colours of the mountains.
Then it was off to Desert Rhino Camp at Palmwag in Damaraland, a place of incredible red, rocky, mountainous landscapes, and home of rare black rhinos who munch on toxic milk bushes (Euphorbia damarana), springbok and oryx, kudu and many more desert- adapted creatures.  If the Namib is like landing on the moon, then Damaraland is like going to Mars.  Here were were lucky enough to experience spotted hyaenas at a den, including two very young ones who walked right up to our vehicles with not a care in the world.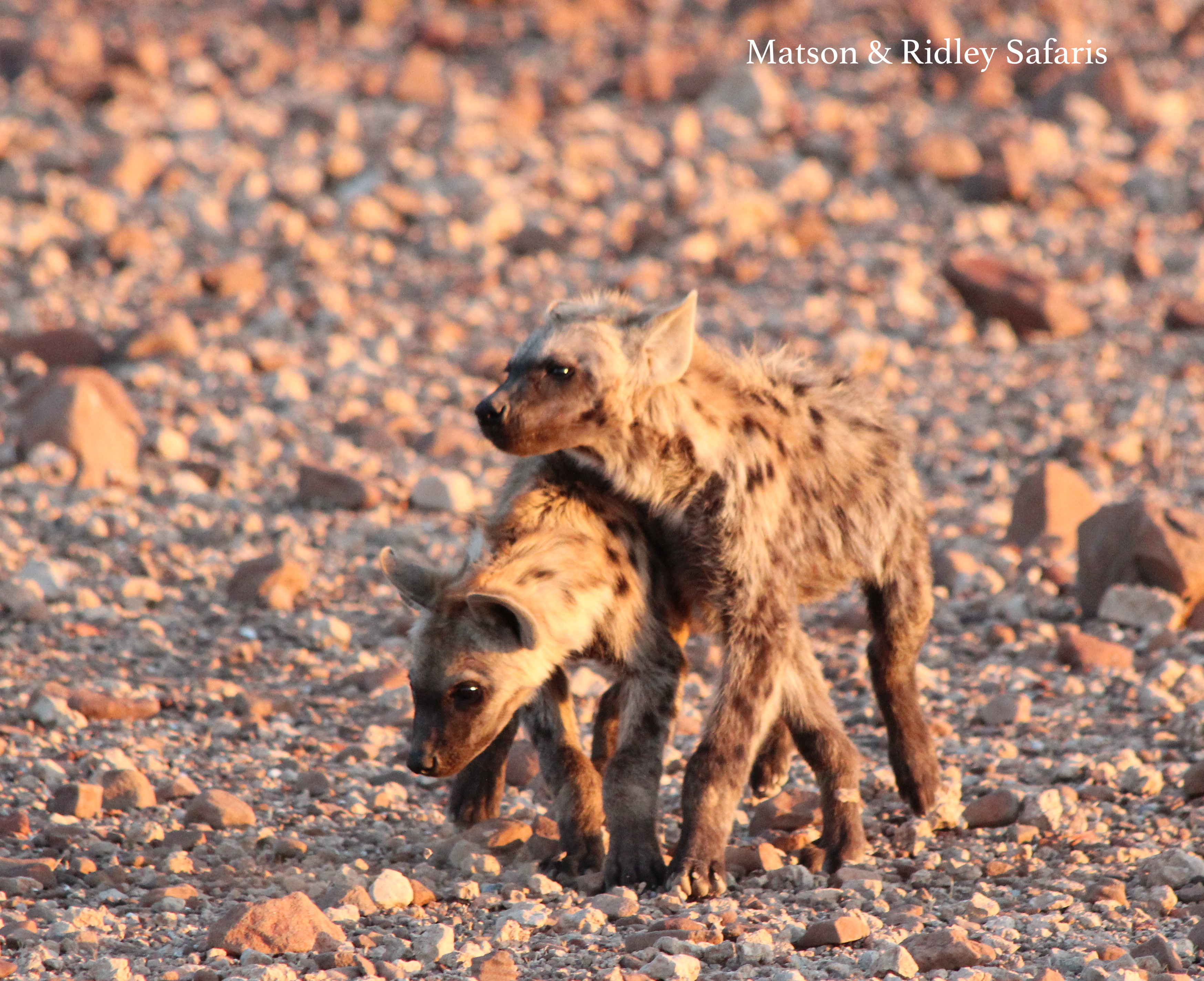 We joined the Save The Rhino Trust trackers on a walk to see a black rhino they had found earlier that morning, a bull known as "Don't Worry", who had been dehorned as part of a Ministry of Environment and Tourism initiative to reduce poaching in Damaraland.  It never feels right to me to see a rhino without its horn, and I worry about the ability of the rhinos to defend their young against lions and conduct normal behaviours without this natural appendage.  Sadly, there is evidence that poachers will still kill dehorned rhinos for the small amount of horn left below the skin, because of its high value on the illegal market in Vietnam.
There was lots of discussion around the campfire about rhino conservation, and a recurrent theme was the issue of legalising the trade in rhino horn, which seemed to be a popular idea among all the Namibian wardens, guides and rangers I spoke to.  Many people in Namibia feel that they should be benefiting from the horns, not the criminals involved in the trade, or that the sales of horn could support rhino conservation.  While this makes sense to me, I can't imagine how wild rhinos, with such low populations today, and continuing to decline at 1000+ per year, could sustain a market in Vietnam, with its growing population of 93 million+ and increasing wealth.   In Africa, a single horn can fetch three year's worth of a local person's monthly salary, so there are very real incentives for good guys to sacrifice conservation for economic motivation.  We have to continue to support anti-poaching efforts in Africa, but I'm more convinced than ever that reducing demand in Vietnam is the most effective weapon we have to stop the slaughter.  That's why I think awareness campaigns in Vietnam (like Breaking the Brand) need much greater support, targeting the elite audience who are buying it.  This battle cannot be won in Africa alone.
Desert Rhino Camp is a partnership between Wilderness Safaris and both Save The Rhino Trust and 3 Damara communities surrounding the Palmwag concession.  Going there is truly supporting conservation because what you pay to visit directly supports the 3 communities and pays for the trackers to protect the rhino every day in the concession.  I love examples of genuine community-based conservation like this, based on sound economic principles.  And quite besides the feel good factor of going there and knowing the contribution you're making makes a real difference, which the staff remind you about all the time by thanking you at least three times a day, the feeling in this camp is just magical.  The staff sing and dance every night (and boy, have they got rhythm!), and on our last night they arranged a surprise starlit dinner out in the bush, something that me and my group will never forget.  It was the highlight of our Namibian journey.
Finally it was off to see some big animals up close at the Ongava Game Reserve, right next to Etosha National Park.  For me this is really home territory as I was based there for two years in a battered old caravan at Okaukeujo research camp while collecting data on black-faced impalas for my PhD.  This part of the world is really fantastic in terms of wildlife in September, the dry season, because you get the big concentrations of animals at the waterholes, and on this front it didn't disappoint.  You can simply sit at a waterhole for hours in Etosha at this time of year, just watching the hundreds of animals come and go.
We also spent some time with mating lions in Etosha, walked up to white rhinos at Ongava and shared a cup of coffee at Okaukeujo waterhole with my old friends, Shayne Kotting (MET warden, Okaukeujo) and Birgit Kotting (MET, head of the rhino custodianship program).
I'd like to thank Dr Julian Fennessy of the Giraffe Conservation Foundation for giving us a talk on the plight of Africa's giraffes on our first night in Windhoek and for joining us for a fun night at Joe's Beerhouse afterwards.  Julian really opened our eyes about the increasingly worrying state of Africa's giraffe subspecies, and watch the IUCN red list this year which is likely to suggest that quite a few giraffe species are more endangered than we realised.
Thanks also to Abigail Guerier at Ongava Research Centre for the fascinating talk at Ongava on our last day on her work on the genetics of white rhinos.  Fascinating to learn about the complex life histories of these prehistoric giants.  Let's just hope they are around for our children to see!
All in all, it was a fantastic life-changing journey, one that I certainly won't forget, and I hope that all who joined me are now great ambassadors for the cause of conserving Africa's wildlife.  If you're interested in joining my next Namibian adventure, contact me to sign up for an odyssey in to the ruggedly beautiful Skeleton Coast from 20-27 May next year, limited to 10 people and already half full.  And last but not least…
Finally, a very big thanks to Susan van der Vloodt, who brought most of her family and friends along on this magical journey.  There's nothing like sharing an African experience with the ones you love, and for me it's a real privilege to share Africa with others who love being there as much as I do!
To see more photos from our Namibian journey, you can like our Matson & Ridley Safaris Facebook page by clicking here and pressing 'like'.