I've always wanted to check out the Philippines, and living in Asia for the last couple of years finally afforded us the opportunity to do a bit of exploring.  Ever heard of Palawan?  It's a series of islands to the west of the main Philippines islands, quite off the beaten track and home of the famous Underground River, a UNESCO World Heritage site that is considered to be the world's longest underground river.  Conde Naste magazine recently awarded Palawan the best island award as part of their 2014 Travel Awards – and here's why.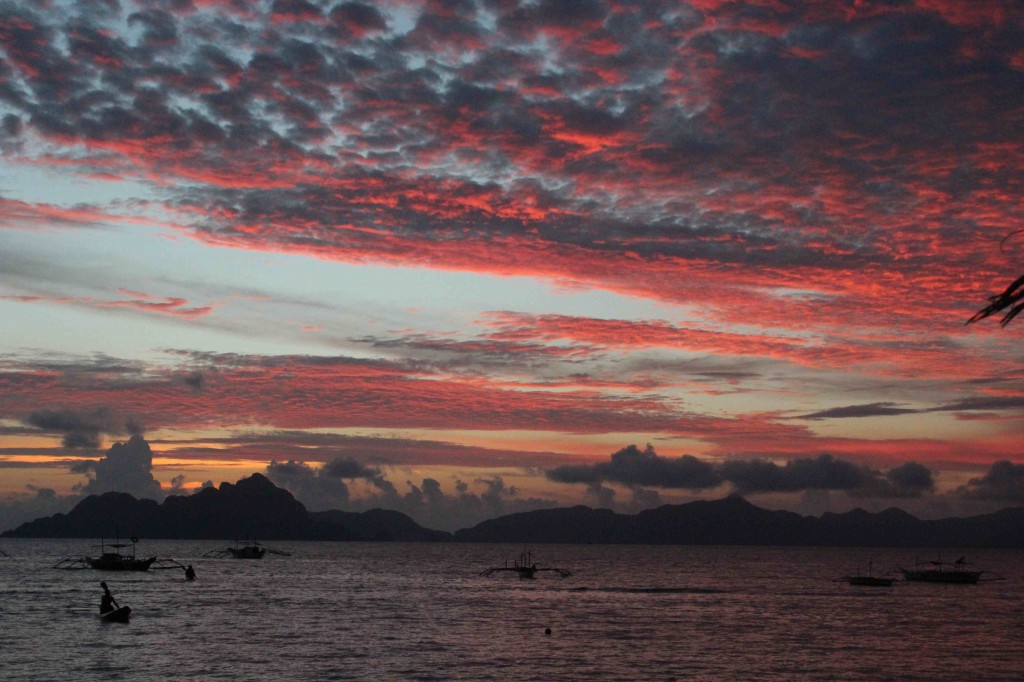 Having packed up our house and put all our possessions in storage in Singapore, Andy, the boys and I headed for Manila for three days of Let Elephants Be Elephants events with my LEBE co-founder, Nadya Hutagalung, organised by our fantastic Philippines team, Ian Angelo King and Joey Mead.  More on the Philippines launch of LEBE in a future blog, but for now let me take you to Palawan, Asia's ultimate, undiscovered adventure and ecotourism destination.
Travelling with two kids under the age of 5 is sometimes a challenge, but the thing about the Philippines is that the locals adore kids – and that really helps.  The warmth and friendliness of the people we met, from complete strangers to the lovely people we stayed with, was one of the most memorable parts of the stay.  Okay so there were extremes – I had my wallet stolen in Manila, while holding the hands of two small kids (pick-pocketed right out of my bag), and we did have a bad experience with the owner of one place we stayed, but the generosity of others just astounded us.  Palawan feels a bit like Africa in that way; you never know what's going to happen, but when you go with the flow, magic sometimes happens.
Thanks to the generosity of some folks we met in Manila at the LEBE Land Rover event, we ended up at a little piece of paradise called Lagen Island.  A private island looked after by a lovely team of locals, overseen by our impressive guide Bilog, the place had its own luxury two bedroom, two bathroom villa, made largely of bamboo, and even a resident wild Oriental Pied hornbill, we felt like we'd pretty much landed in heaven.  We bought fish and lobsters and squid from the local fishermen, cooked on the coals by Bilog and team, and ate like kings in front of a big camp fire right on the beach at night.  Surrounded by shallow, warm water and its own sandy beach, it was the perfect place for us and two little boys to rest up.
The scenery in the El Nido area is something else.  Think islands with gorgeous, soft sand beaches, towering limestone cliffs, fully vegetated forests and swaying palm trees.  What struck us about the whole of Palawan was how undeveloped the place was – in a very good way.  Most of the island still has intact forests and there's not a high rise in sight, even in the main town of Puerto Princesa.  We hope it stays that way.  Electricity on Lagen Island is powered by generator and there's no refrigeration, which means going by boat into town every few days to buy ice for the cooler boxes, a good excuse to enjoy that breath taking scenery again.
The famed Puerto Princesa Underground River was worth a visit for the impressive stalactites and the sheer adventure of being in the dark on a little boat while bats and swallows fly past your head.  Solo, now almost 5, thought it was a grand adventure.  Although bear in mind it's a bit of a mission to get there, two hours on winding roads from Puerto Princesa, and then a boat ride across the ocean to the point where you actually enter the cave.
It's the sunsets and the peace that will stay in our memories the most.  The sense of space, the huge vibrant skies and the warm waters with incredibly tame fish that you can snorkel right up to without them swimming away is really a recipe for a great escape.  You do have to keep your wits about you with the kids (life jackets, mosquito repellent, eyes in the back of your head!) but for adventurous families or couples I can't recommend this place highly enough.  A huge thanks to Vivien, Ed & Bilog for taking such good care of us.  Lagen Island's gorgeous private villa can be booked here.
While in Puerto Princesa, which is a 4 hour drive from El Nido, we stayed at the Legend Hotel and met the owners, Antonia and Wyden, who happened to be there at the time and were just the most hospitable people ever.  The rooms were of a good standard for the very reasonable price, clean and very big, and more than did the trick for us, plus the breakfast spread was ample for our family.  The staff went out of their way to meet all our needs, which really helps when traveling with kids.
Travelling with an almost one year old, Shep, especially one with very red hair and incredibly white skin, was an experience in itself.  Everywhere we went, locals described him as a 'talking doll', and he really got the celebrity treatment.  We would have found it a lot more challenging traveling there if we hadn't had our wonderful Philippino nanny, Julie with us the whole time.  Julie wasn't just our nanny while there – she was translator, guide and body guard for Shep from all the ladies who wanted to hold him as he literally stopped traffic!
All in all, other than the incredible islands, the warmth of the Philippino people was one of the things we loved the most about travelling there.  At the moment, El Nido doesn't even have an ATM, so it's really a tourism hotspot waiting to happen.  Our hope is that as El Nido opens up to the world, it develops in a way that keeps intact its reefs, forests and islands, because something this magnificent really is worth saving.