"Who wouldn't love elephants?  It's not only that they're so much like us.  It's that they show us the best side of ourselves."
Dr. Tammie Matson was born in Townsville, just off Australia's Great Barrier Reef in 1977 and grew up surrounded by animals, both wild and domestic.  After visiting Zimbabwe with her father at the age of fifteen, she fell in love with Africa and turned her life upside down to build a future for herself there.
Tammie's first non-fiction book, "Dry Water – Diving Headfirst into Africa", (Hodder Headline, 2005) tells the story of her adventures in Africa from the age of 15 to 27 and how she came to realise her dream to become a wildlife researcher in Africa.  During those years, Tammie worked in the safari industry in Zimbabwe and Zambia, dealt with war veterans and macho men, volunteered on wildlife projects on hippos and African wild dogs, taught English at a small African primary school, helped radio-collar desert-dwelling elephants and undertook her PhD on the endangered black-faced impala of Namibia based in Etosha National Park.
Tammie's subsequent conservation work over the past decade in southern Africa has included projects on several endangered species including conserving the critically endangered desert-dwelling black rhino of Namibia and helping reintroduce Namibia's threatened black-faced impala to formerly poached and war torn parts of the country for the Namibian government.  Her work has taken her on adventures across Namibia's stark landscapes in a Land Rover, across the rolling dunes of the Namib desert, into the heart of the hostile Skeleton Coast and to the home of the ovaHimba people at the most remote camp in southern Africa, bordering land mine ridden Angola.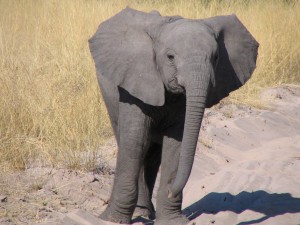 In 2005 Tammie fell by accident into a project to reduce human-elephant conflict in Bushmanland at the request of the Chief of the Bushmen.  After years of working on antelope, she knew she was no elephant expert.  But over the course of two years, she came to become a part of this small remote community and to see Bushmanland, its 'little people' and elephants, from the inside out.  She worked closely with the Bushmen to develop programs to reduce the growing problem of human-elephant conflict, a major threat to both human and elephant lives because of competition over water.
In 2007, Tammie returned to Australia to join WWF as leader of the national threatened species program.  Over the next two years she developed WWF Australia's flagship species program, focusing on saving ten charismatic species which represent the threats affecting most species in Australia and the country's most vital habitats.  As a spokesperson for threatened species for WWF, Tammie's voice has been heard across the world.
Through WWF initially, Tammie branched into India in 2007 to help bring technologies that are working to reduce human-elephant conflict in Africa to the north-east Indian state of Assam at the base of the Himalayas, where elephants are in decline.  She continued to work with Indian organisations to implement chilli-based elephant deterrents, based on the fact that elephants don't like chilli by raising awareness through the charity she co-founded in 2009, Animal Works.    (For more information on how chilli deters elephants and improves livelihoods go to Elephant Pepper).
In October 2009, Tammie's second book of non-fiction, "Elephant Dance – a story of love and war in the elephant kingdom" was published by Pan Macmillan Australia.
In 2010 Tammie won In Style magazine's prestigious Women of Style awards for her
work on environmental issues, joining other accomplished Australian women winners such as Nicole Kidman and Cate Blanchett.
Tammie is now based in Singapore with her husband, Andy Ridley, who is the co-founder and executive director of WWF's Earth Hour, the world's largest reaching environmental campaign.  She and Andy had their first child in November 2009, a boy, Sol.
Tammie left Animal Works in July 2012 when she moved to Singapore, and is currently working on a third book on elephant and rhino conservation in Africa and Asia, due for release in Australia in August 2013.  She lectures the subject "Environmental Processes & Global Change" at James Cook University, Singapore campus, and teaches freelance Science Communication for NGOs, zoos and universities.